Sorry, the page you requested does not exist  anymore.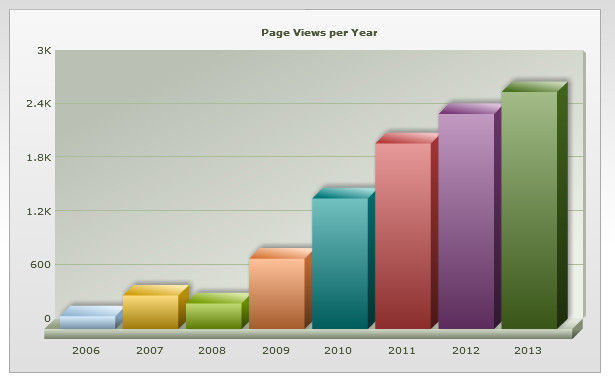 History of this site:

This website is owned, paid for, and operated by a private individual.

It was set up (gratis) in 2006 purely as a demonstration of what a website could look like if the operators of Tumut Museum ever decide to have a website of their own.

The website provided basic information about the museum, such as opening times and contact details, along with information about the history of the Tumut area. Very little editing of the site occurred since it was originally set up.

For more than 7 years the owner of the site received no adverse comment about either the existence of the site or its content (and, over this entire time, the operators of Tumut Museum were fully aware of its existence).

The graph (right) shows how the number of page views grew over its life.

Several other organizations placed a link on their own site so that visitors could easily access www.tumutmuseum.homestead.com.

Suddenly, in mid 2013, the managers of Tumut Museum told the site owner to shut down www.tumutmuseum.homestead.com.

The main complaint appears to be that a Goggle search for "Tumut Museum" produced a list of websites with www.tumutmuseum.homestead.com at the top.

As a result of this directive, the owner removed all content from the site (except for a link to his new site).

The museum managers then went further by demanding that the domain name "www.tumutmuseum.homestead.com" also be destroyed - ostensibly because a Yahoo search still listed this page.

The site owner has taken the view that the domain name (and the site) belongs to him and as such he will not yield to these new censorship demands made by the managers of Tumut Museum.

Kevin P. Swann, owner & editor.

If you want to discover some of the history of the South West Slopes of NSW (and beyond) go to the owner's new site:-
tumuthistory.com
.
This new (independent and growing) site contains no references to Tumut Museum and it is not associated with Tumut Museum in any way.